2013 GOTJ: AUGUST 7TH - 11TH IN CAVE-IN-ROCK, IL
WEDNESDAY JANUARY 23, 2013 01:00:00 PM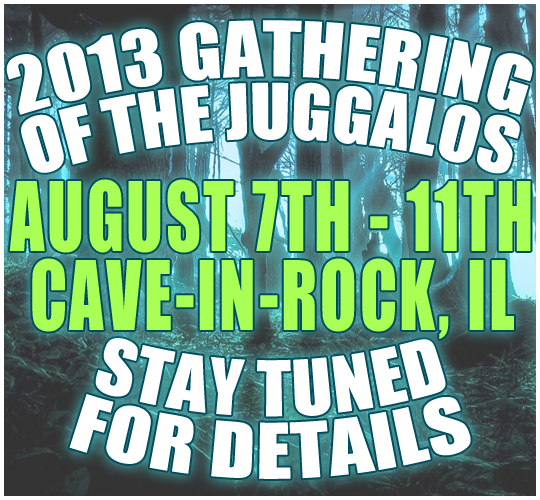 FROM THE 01/18/13 HATCHET HERALD:
WEDNESDAY JANUARY 23, 2013 12:00:00 PM
THIS IS IT! We officially have the dates and location for the upcoming 2013 Gathering of the Juggalos! That way you can start all of your planning NOW! Get your time off from work, book a babysitter, save up that cheddar. find a ride... FUCK! Yeah, there's a lot that goes into getting ready to go to the Gathering of the Juggalos, but we have the two most vital bits of information YOU NEED to begin your adventure!

The 2013 Gathering of the Juggalos will begin August 7th and run until Sunday, August 11th! The location? It's our home away from home, y'all! We're takin' it back to The Hatchet Landings! Hog Rock in Cave-in-Rock, IL! The Gathering of the Juggalos has been held in Cave-in-Rock, IL for years now and they haven't treated us wrong so we're followin' under the philosophy if it ain't broke, don't change shit about it!

The badass staff of Ninjas that handle the plotting and planning of the Gathering of the Juggalos is already hard at work dreaming up what sort of over the top events, contests, and performances you'll be able to see this year at the biggest family reunion on the planet! They need to get a jump on it NOW so everything can be in order when the Juggalos and Juggalettes descend on the Hatchet Landings.

You know that some things will just be guaranteed. One of the most vital things? The Insane Clown Posse will once again be performing on the main stage on Saturday night! This is something that switched up last year. While Sunday is the last day of The Gathering and for years the Insane Clown Posse acted as the finale of the entire event, there were some Ninjas gettin' the bone!

Some people had to get on the road early Sunday so they could be back to work on Monday. SOME PEOPLE had been attending The Gathering for years without ever getting to see Violent J and Shaggy 2 Dope perform. That's fucked up! So the wicked clowns shifted the grand finale of the main stage to Saturday night so no one missed a damn thing and since it worked out so well in 2012 they're doin' it again this year!

It's going to be the usual fun in the sun, but you'll just have to wait for all the exact details of what you can expect to come out! For now, you know it's in Cave-in-Rock, IL from August 7th - 11th! IT'S A GOOD FUCKIN' START! For more details keep checkin' back!